Creamy Potato Soup with Leeks and Thyme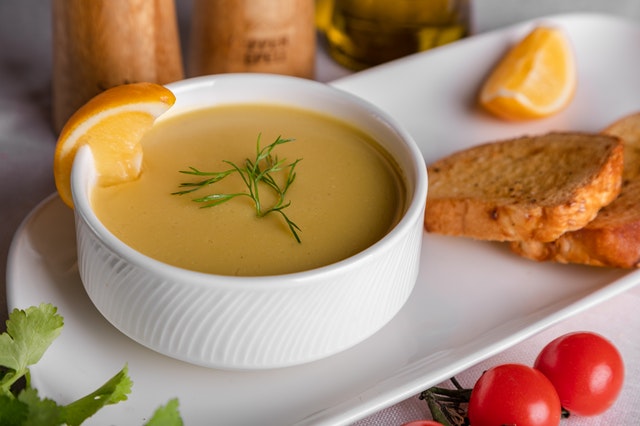 Organic food recipes - delicious and healthy
Organic food is produced without use of artificial chemicals, hormones, irradiation or genetically modified organisms. Because it has no chemical residue and has been grown in a healthy, wholesome way, the dishes created with organic food are by far more delicious than those made by regularly grown produce. Try few of them and see for yourself. The recipes are from different chefs who were generous to share them with other organic food enthusiasts. Enjoy.

Creamy Potato Soup with Leeks and Thyme

Ingredients:

2 Tablespoons unsalted butter
1 medium leek, thinly sliced
1 small onion, minced
1 Tablespoon fresh garlic, minced
2 Tablespoons fresh thyme
6 cups low-sodium vegetable broth
6 cups Russet potatoes, peeled and cubed
1 bay leaf
2/3 cup low-fat sour cream
salt and pepper, to taste


Directions:
Heat the unsalted butter in a large pot or Dutch oven. Sauté leeks and onion in butter until tender. Add fresh thyme and garlic; cook 2 more minutes. Add vegetable broth, potato cubes and bay leaf. Bring this mixture to a boil; reduce the heat and simmer until the potatoes are tender. Remover the bay leaf. Purée this mixture with a hand-held mixer or in a food processor. Stir in sour cream and season with salt and pepper. Serve warm.

This soup is delicious with crusty bread and a crisp, green salad.
This recipe is provided by the SkyOrganic, Singaporean organic food specialists.
Go for the healthier organic food option – if you haven't already – and check out the freshest selections at our bestorganicfood.sg store.
Photo by Dima Valkov from Pexels