Crunch Your Way to Better Health: Delicious and Nutritious Carrot Recipes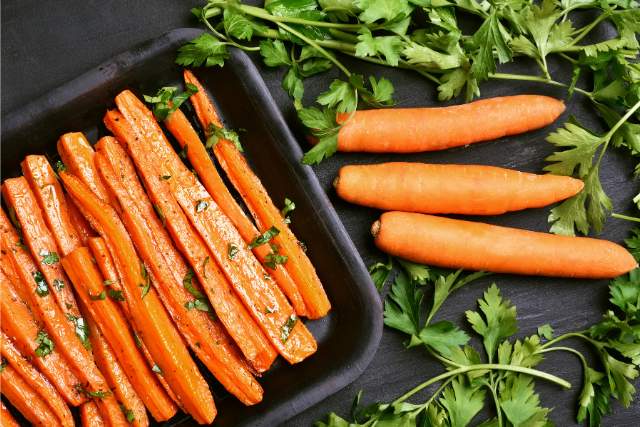 Suppose you overheard someone munching on some carrots. Do you have any idea what the "crunch" sounds like it makes? Or, picture the orange-tinged, mushy vegetable in one of the meals you're now eating. That combination of sweet and salty...
Carrots are a versatile ingredient that can be used in a wide variety of meals all over the globe. We hope that this information does not cause you to drool at this very now.
The cultivation of carrots, which are root vegetables, is believed to have begun in Afghanistan about 900 AD. Orange may be its most well-known color, but it comes in various shades, including white, purple, yellow, and red. The first carrots were either yellow or purple. Carrots with an orange hue were first cultivated in Central Europe between the 15th and 16th centuries.
This widely consumed and adaptable vegetable may have a flavor that varies significantly according to its color, size, and region in which it was cultivated. Carrots have a somewhat sweet flavor due to the sugar they contain, but they may also taste earthy or harsh.
Carrots may be used as an ingredient; they can be used in savory recipes, and even better, they can also be employed as the primary element in a cake or bread! Raw carrots may be eaten whole, chopped, or shredded to add color to salads. Carrots are also often sliced and cooked in various dishes, such as soups and stews. The greens may be consumed as a leaf vegetable; however, this is not a common practice.
Carrots peeled and sliced into uniform cylinders have been called baby carrots or small carrots since the late 1980sSince then, these carrots have been a popular ready-to-eat snack item in many stores. Here are some dishes thu may attempt that are tasty and healthful thanks to the presence of carrots.
Spiced carrot & lentil soup
A delectable and piquant combination that is not only high in iron but also low in fat. You may have it on the table in less than half an hour or prepare it in a slow cooker.
Get the recipe: Spiced carrot & lentil soup recipe | BBC Good Food
Baked carrot & nigella seed bhajis with raita
As an alternative to the traditional Indian side dish onion bhajis, this baked carrot version is a far healthier option. Include these golden, crispy nibbles on a thali or curry spread for your guests to enjoy.
Get the recipe: Baked carrot & nigella seed bhajis with raita recipe | BBC Good Food
Honey-glazed carrots
The flavor of carrots is brought out to its full potential when roasted, and the honey glaze makes them taste scrumptiously sweet. As a side dish for Christmas lunch or a roast on Sunday, serve.
Get the recipe: Honey-glazed carrots recipe | BBC Good Food
Carrot Cake Muffins
Carrot cake muffins are an essential carrot dish that you need to have in your repertoire. These are very moist and spicy, with warm spices, nuts, and brilliant strands of carrots woven throughout the batter. When you garnish their tops with a glaze made of sour cream cheese, it elevates them to the level of a rockstar.
Get the recipe: Carrot Cake Muffins with Cream Cheese Drizzle – A Couple Cooks
Carrot Fries
Fans of fries, here's some exciting news: t brand new fry is in town. Fries made with carrots! This recipe for healthy fries has all the nutrients in this well-known vegetable, but they have the flavor of your favorite greasy comfort meal. The fact that they are seasoned with ranch is a bonus. 
Get the recipe: Carrot Fries (Ranch Seasoned!) – A Couple Cooks
Carrot Ginger Soup
The following is a recipe for a brilliant orange puree with sunshine flavor: Soup made with carrots and ginger! This is the perfect dish to make when you have a large bag of carrots that need to be used up or when you are in the middle of a dark season and are longing for some sun.
Get the recipe: Carrot Ginger Soup – A Couple Cooks
Carrot Smoothie
Do you want to consume more carrots? This Perfect Carrot Smoothie is a delicious way to get a good amount of them, and tastes great! This bright puree is packed to the brim with a tempting fruity taste; it combines this orange vegetable with orange, apple, and mango.
Get the recipe: Perfect Carrot Smoothie – A Couple Cooks
Pickled Carrots
There is nothing quite like the salty, sour, and crunchy experience that pickled carrots provide, is there? Consume them as a relish, scatter them on a cheese board, or include them in sandwiches. Alternatively, you might take a big whiff straight out of the jar. Pickling carrots at home has always been challenging with this recipe for fast pickled carrots. 
Get the recipe: Easy Pickled Carrots – A Couple Cooks
Carrot Pancakes
In search of pancakes that won't send you into a sugar coma after eating them? Make sure you give these Carrot Cake Pancakes a try! They are not too sweet and positively impact one's health. They are delicate and juicy from the carrots, lightly sweetened with maple syrup, and delightfully flavored with cinnamon, ginger, and nutmeg, and lightly sweetened with maple syrup.
Get the recipe: Carrot Cake Pancakes – A Couple Cooks
Disclaimer: The information provided in this article is for general information purposes only. All information in this article is sourced from other websites, and we do not represent any rights regarding the contents and information on the site. All rights belong to their original owner. 
Sources: