Mushroom Health Advantages - How to Get the Most out of them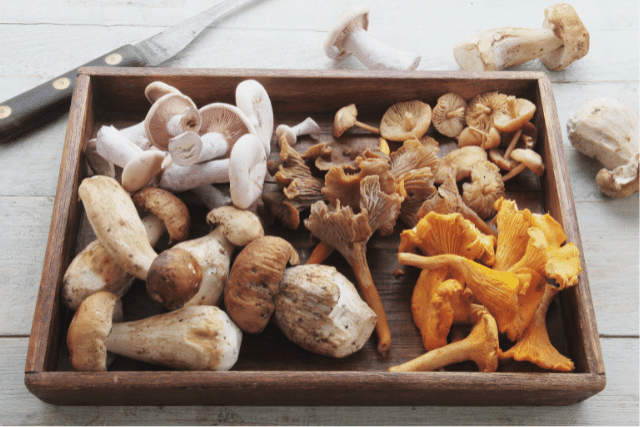 Mushrooms are becoming a mainstay in many people's regular diets. A few decades ago, mushrooms were regarded as an unusual food that was difficult to raise. Mushrooms are a great source of fiber, protein, and antioxidants, making them an excellent addition to any cuisine. In addition, they don't put on weight but instead, boost your immunity and power.
There are a plethora of mushrooms to choose from, each with its unique composition and nutritional profile. Whether they're fresh, canned, or dried, Mushrooms may be a nutritious addition to your diet.
Here are some benefits of Mushrooms people can get most of.
Cholesterol-free and fat-free
More than a dozen minerals and vitamins are found in mushrooms, such as potassium, magnesium, zinc, and various B vitamins such as folate. Many health advantages may be attributed to the abundance of nutrients in these foods.
The antioxidants may prevent several dangerous health disorders in mushrooms, which assist the body in destroying free radicals.
According to research, mushroom choline has also been shown to aid with muscular mobility, learning, and memory. Choline plays a crucial role in transmitting nerve impulses to keep cells healthy.
Vegan source of Vitamin D
Vitamin D is involved in calcium absorption, immune function, and protecting bone, muscle, and heart health. Other minerals, such as selenium, potassium, copper, iron, and phosphorus, may be harder to come by on a vegan diet, but they may be found in mushrooms.
More than 2,000 edible species of mushrooms exist, yet just a few may be found in the local grocery stores. An example would be the Garlicus bisporus (button mushrooms), widely available in most marketplaces. Raw or cooked, this is the mildest-tasting mushroom there is.
For the treatment of neurodegenerative disorders
Medicinal types of mushrooms are supposed to have unique therapeutic characteristics, which is why they are called such. When it comes to medicinal mushrooms like lion's mane and reishi, powders and supplements are much more commonplace than eating the actual mushrooms in their whole. According to preliminary research, such medicinal mushrooms may be effective in the treatment and management of neurodegenerative illnesses, including Alzheimer's disease.
Helpful in preventing heart disease
In overweight individuals, mushrooms may have medicinal characteristics that help decrease cholesterol levels. The nutrients and plant chemicals they provide may also aid in the prevention of blood vessel plaque buildup by preventing cells from adhering to the walls of the vessels. Maintaining healthy blood pressure and circulation helps to safeguard the heart, as well.
Gut Health
Beta-glucan, a compound found in mushrooms, seems to be prebiotic, supporting the development of good gut bacteria and creating a healthy environment in the intestines. This is critical since a healthy gut is essential for the proper functioning of our immune system, digestion of food, and nerve and hormone communication with the brain.
However, with the rise in popularity of scavenging for wild food, there is also an increased danger. You must exercise care before rushing out to your local backyard to pick up a fungus. Only a few mushrooms can be eaten fresh therefore it's advisable to go mushroom digging with an expert and document the most frequent edible types with photos.
Shop at BestOrganicFood.sg!
BestOrganicFood.sg is one of the most established range of organic vegetables for more than 10 years. We provide next-day organic vegetables and fruits delivery services in Singapore. 
 As all our fresh organic produce is being picked and delivered on the same day, shopping for fresh organic produce has never been an easy shop for fresh organic produce. Our friendly customer service team is eager to assist with your shopping needs.
Sources:
Superfood mushrooms: How to tap into health benefits of this tasty vegetable, what to avoid