Organic Vegetable Recipes to Try at Home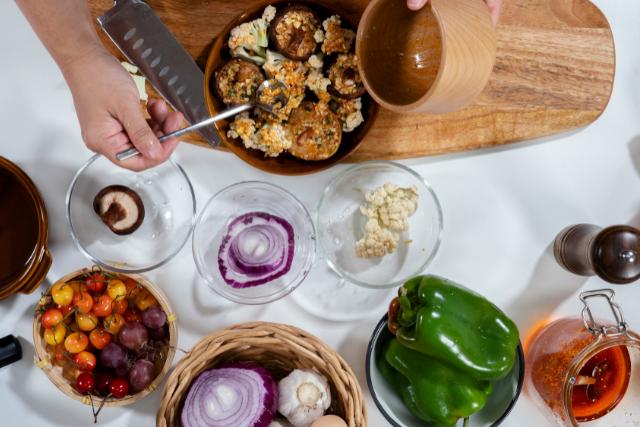 Who doesn't get excited over a delicious meal? Mainly when you know that it's organic and free from any chemicals that might be hazardous to your health. Whether you are the one who prepares the meal or eats it, using organic ingredients in the dish, or eating a meal that contains organic foods, it is still considered food since food is food. It is a necessary component of the things we need daily.
Organic foods are farmed and grown without the help of synthetic chemicals such as pesticides and artificial fertilizers. These types of foods are often referred to as "natural" foods. One kind of chemical considered to be included in this category is known as a herbicide. They do not submit any of their food to irradiation, do not make use of any components that have been altered via genetic modification (GM), or use any of the characteristics they use.
The word "organic" is printed on various items now available for purchase in the market. Greens are one of the most prominent in-demand goods sold using this strategy. Because of the high levels of chemicals used in crop cultivation, this often offers more organic product alternatives than the other goods on the market. Because of this, many people choose greener greens as their food source.
Check out the following recipes if you're seeking some ideas for dishes that you can make using organic vegetables:
Egg Drop Soup
Total Time: 10 minutes
This easy recipe for egg drop soup is full of warm, comforting, and delightful flavor, and it is a vital beginning course for any Asian cuisine.
Get the recipe here: Egg Drop Soup | Simply Organic
Fresh Spring Roll Bowl with Ginger-Peanut Sauce
Total Time: 25 minutes
The foundation of this vibrant spring roll bowl dish is made up of rice noodles tossed in a delicious peanut sauce seasoned with organic ginger, garlic, and black pepper.
Get the recipe here: Fresh Spring Roll Bowl with Ginger-Peanut Sauce | Simply Organic
Zoodle Pasta Arrabiata
Total Time: 45 minutes
With this plant-based pasta dish, you may experience the sophistication of tomato-based spaghetti without eating as many carbohydrates. Whether it is served on its own or with some organic roasted pork or chicken, this meal shines. It is made using zoodles and the freshest organic veggies.
Get the recipe here: Learn How to Make 3 Quick Recipes Using Organic Vegetables. We Love Recipe #2. - Blog | Healthy Options
Easy Rustic Roasted Cauliflower
Total time: 30 minutes
If you are new to eating without meat, the most important thing is to locate simple vegetarian meals you can create quickly, like this dish. There are just three things you will need to make it. Moreover, roasting will bring out the natural sweetness of the vegetable.
Get the recipe here: Easy Rustic Roasted Cauliflower Recipe - Organic Authority
Asparagus Rice
Total time: 30 minutes
The vast majority of us have been in situations where we were at a loss for what to do with leftover rice, whether from ordering takeout at a restaurant or cooking at home. Rice may be transformed into something fresh and intriguing by following this simple recipe. While asparagus is used in this recipe, you can use any of your preferred green veggies in its place, such as Chinese broccoli, kale, or bok choy.
Get the recipe here: Asparagus Rice (asian-fusion.com)
Bok Choy & Red Cabbage Slaw
Total Time: 10  minutes
The most excellent condiments are those with a low number of calories yet a high level of taste. This bok choy and red cabbage slaw are simple to make and require practically little preparation time. It is the ideal side dish to serve with heartier meat dishes such as barbecued ribs or roasted chicken. It has a tangy flavor with a hint of sweetness and is quite crisp and refreshing.
Get the recipe here: Bok Choy & Red Cabbage Slaw (asian-fusion.com)
Braised Garlic Eggplant
Total Time: 40 minutes
Since eggplant tends to soak up liquids during the cooking process, this recipe calls for using a simple but effective method that a chef may teach in Beijing. This method helps reduce the quantity of oil required for cooking. Before beginning the cooking process, sprinkling the chopped eggplant pieces with a significant amount of salt pulls out the water naturally found in the eggplant, lowering the amount of oil absorbed during the cooking process.
Get the recipe here: Braised Garlic Eggplant (asian-fusion.com)
Chinese Broccoli with Oyster Sauce
Total time: 8 minutes
One of the most well-known and well-received traditional Chinese dishes is this quick and straightforward preparation of vegetables. Adding sweet and salty oyster sauce and aromatic garlic turns this vegetable meal into a vegetarian main course everyone enjoys. 
Chinese broccoli that has been gently stir-fried has a wealth of antioxidants and important elements. It is essential not to overcook the broccoli to preserve its vibrant green color and the nutrients it contains. Remember that the veggies will continue to cook themselves mildly even after being plated since the intrinsic heat will do so.
Get the recipe here: Chinese Broccoli with Oyster Sauce (asian-fusion.com)
Disclaimer: The information provided in this article is for general information purposes only. All information in this article is sourced from other websites, and we do not represent any rights regarding the contents and information on the site. All rights belong to their original owner.