Top 10 Easy Dinner Recipes to make for this Week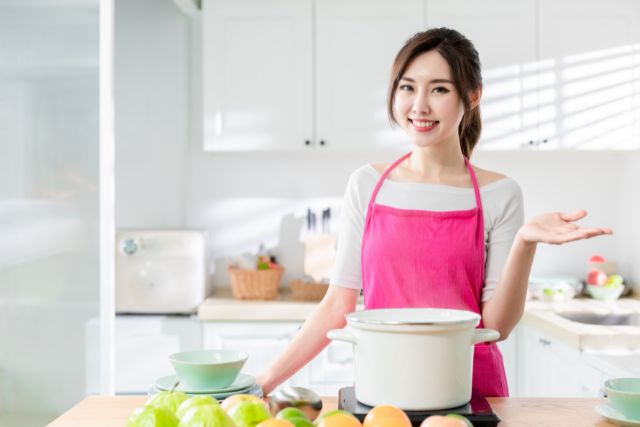 Are you the cook at your home? Or have been assigned to be the cook for a week but don't know what to prepare each night? Having dinner with your family is an everyday occasion where you can sit and talk with your family while having a nice dinner. However, there are times that you can run out of ideas on what to cook, especially during lazy days (and that's ok). Don't worry, as we give you the Top 10 Dinner recipes you can cook and prepare for a week.
Instant Pot Chicken Marinara With Polenta
Chicken thighs with a jar of marinara sauce equal a simple meal that can be prepared in a short amount of time and will leave you feeling satisfied.
Ingredients:
8 Boneless, skinless chicken thighs, about 2 pounds

2 teaspoons kosher salt, divided

1 (24 oz) Jar marinara sauce

4 cups chicken stock or broth

1 cup stone ground polenta or yellow cornmeal
Lemon Chicken
This simple dish sparkles with the bright and tangy flavor of lemon. Adding garlic, herbs, and just a splash of white wine makes chicken breasts that are moist and tender not only tasty but also good for you.
Ingredients: 
4 boneless chicken breasts 

1/4 cup olive oil

2 tsp oregano, dried

2 tsp thyme, dried

2 tsp garlic powder

2 tsp salt, divided

½ tsp black pepper

1/2 cup dry white wine

2 tbsp minced garlic

1 tbsp lemon zest

2 tbsp lemon juice, freshly squeezed

1 tbsp brown sugar

1 lemon 
Sheet Pan Olive Bar Chicken
This meal is sure to become a new favorite since it is brimming with flavor, requires little preparation, and can be cooked in just one pan.
Ingredients: 
8 to 10 new potatoes, quartered

1 tablespoon extra-virgin olive oil

1 teaspoon salt

6 boneless, skinless chicken thighs

1 small red onion, cut into 1-inch wedges

2 cups mixed olive bar offerings

½ teaspoon black pepper

1 teaspoon onion powder

Lemon wedges, for serving
Pork Chops with Mushroom Cream Sauce
Regarding pork chops, this recipe takes just half an hour to prepare and has a very creamy mushroom sauce.
Ingredients:
4 bone-in pork chops (1 1/2-inch thick)

2 tbsp olive oil

1 tsp salt

freshly ground pepper

6 tbsp butter

2 lbs crimini mushrooms, tough ends removed, cut in half

3 garlic cloves, minced

1 cup dry white wine

1 cup heavy cream

1 tbsp mustard

2 tbsp fresh thyme, minced

1 lemon

2 tbsp fresh chives
Kung Pao Chicken
Get your hands off the menu for the takeaway. Instead of going out to dinner, why not try making this simple chicken dish?
Ingredients:
2 lbs boneless skinless chicken breast, thinly sliced (about 3 chicken breasts)

1/4 cup low sodium soy sauce (or tamari)

2 tbsp cornstarch

3 tbsp sesame oil

1 red bell pepper, cubed

1 green bell pepper, cubed

1 bunch green onions, white and green parts

1/2 cup cashews (or peanuts)

10 dried red chili peppers, cut in half to release their heat

6 garlic cloves, minced

1 tbsp fresh ginger, minced or grated

cooked rice for serving, optional
For Kung Pao Sauce
1/4 cup low sodium soy sauce (or tamari)

1/3 cup rice vinegar (or sherry vinegar)

2 tbsp sugar
Shrimp Scampi
Although it has an air of sophistication, this shrimp scampi dish is relatively simple. The prawns are further enhanced by the vibrant tastes of lemon and herbs.
Ingredients:
3 to 4 garlic cloves, minced

1/4 cup butter, cubed

1/4 cup olive oil

1 pound uncooked shrimp, peeled and deveined

1/4 cup lemon juice

1/2 teaspoon pepper

1/4 teaspoon dried oregano

1/2 cup grated Parmesan cheese

1/4 cup dry bread crumbs

1/4 cup minced fresh parsley

Any pasta available
Grilled Soy Chicken
This dish's combination of brown sugar, ginger, and soy sauce creates an explosive taste profile. This sweet and salty glaze is delicious on various types of meat, including pork chops.
Ingredients: 
1 cup packed brown sugar

3/4 cup ketchup

3/4 cup reduced-sodium soy sauce

1/3 cup sherry or chicken broth

2-1/2 teaspoons minced fresh ginger root

1-1/2 teaspoons minced garlic

24 boneless skinless chicken thighs (about 6 pounds)
Baked Tilapia
If you have decided to prepare more healthy meals for the health of the people you are cooking for, you can never go wrong by selecting a dish that incorporates fish. Try your hand at making this simple baked tilapia dish instead.
Ingredients:
4 tilapia fillets

3 tablespoons butter, melted

3 tablespoons lemon juice

1-1/2 teaspoons garlic powder

1/8 teaspoon salt

2 tablespoons capers, drained

1/2 teaspoon dried oregano

1/8 teaspoon paprika
Chicken and Dumplings
This evening meal is a tasty one-dish dinner that can be prepared quickly, has a minimal amount of fat, and is ideal for serving on cold winter evenings.
Ingredients:
3 celery ribs, chopped

2 medium carrots, sliced

3 cans of reduced-sodium chicken broth

3 cups cubed cooked chicken breast

1/2 teaspoon poultry seasoning

1/8 teaspoon pepper

1-2/3 cups reduced-fat biscuit/baking mix

2/3 cup fat-free milk
Chicken and Veggie Stir Fry
You are welcome to switch up the veggies or the protein based on what you have available in the refrigerator. No matter what happens, the meal will be saved by the basic sauce that delivers a powerful taste blast.
Ingredients: 
1 lb chicken breast, cubed

salt, to taste

pepper, to taste

1 lb broccoli florets 

8 oz mushroom, sliced

3 tablespoons oil for frying
For Sauce
3 cloves garlic, minced

1 tablespoon ginger, minced

2 teaspoons sesame oil

⅓ cup reduced-sodium soy sauce

1 tablespoon brown sugar

1 cup chicken broth

¼ cup flour
For more information on the recipes, visit the sources below.
Source: