10 Sustainable Swaps for a Greener Kitchen Revolution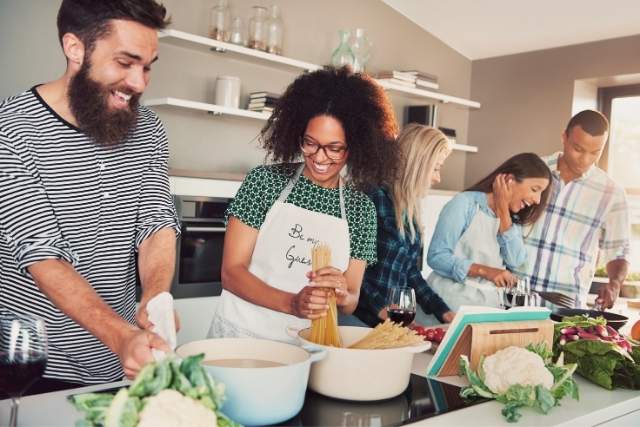 When we trade something with another individual, we aim to create a scenario in which both parties benefit. We want to take advantage of the switch and make full use of its capabilities at this time. The same holds for the meals we consume; switching to foods that are more environmentally friendly and sustainable can be one of the finest life decisions you've ever made.
When we speak about sustainable swaps, we're referring to things or behaviors that you can use instead of those that aren't as good for the environment as the ones you're replacing them with. Making these substitutions and embracing a sustainable lifestyle is simpler than you think. Even a few tiny efforts may significantly influence the world and the quality of life it provides for future generations. 
Here are ten (10) sustainable alternatives that you may look into if you want to find a more environmentally friendly option for your kitchen. 
Un-baking Paper
Enjoy the ease of use that baking paper provides. Un-baking papers are reusable silicone sheets that are the ideal size for conventional baking sheets. Perfect for roasting vegetables and chickpeas in addition to other foods and baking cookies, scones, and bread rolls. When you're done, just wash it and put it to use again and again. 
Pouches made of silicone.
Instead of using Ziploc bags, why not try one of these silicone pouches? These pouches are available in various sizes, from tiny to extra large. They are ideal for storing leftovers, fresh and frozen fruits, chopped salad items, chopped vegetables, meat, and leftovers of any consistency since they will keep the contents crisp and fresh for many days. To secure the goods within, just slide the bar into place. Each bag is resistant to leaking, devoid of BPA, and suitable for use in the microwave, freezer, and dishwasher. 
Dish brush made of wood.
Disposable dish brushes made of plastic are becoming a thing of the past. These wooden brushes from the eco-store are just as handy, but they last longer and feature heads that can be replaced.  With a handle made of beech wood obtained responsibly and a head made of vegetable fiber bristles that will biodegrade at the end of their life, these brushes are an excellent alternative for those just starting. 
Cloth Made of Spruce
Avoid using reusable dish towels in the kitchen. Introduce yourself to Spruce, an environmentally friendly dishcloth that does great things for the environment. These are precisely the same as dishcloths, but since they are manufactured from cotton and cellulose derived from plants, they are biodegradable and can be composted at home. These are very absorbent; when they need to be cleaned, you can even put them in the dishwasher!
Sponge made of compostable material that has a loofah scouring pad. 
The scourer sponges are a very environmentally friendly replacement for the standard yellow and green varieties, often manufactured with virgin plastic and not recyclable. They are long-lasting, spanning around one month, and work well for washing dishes and cleaning up spills. 
Cutting Boards Made of Wood
Plastic cutting boards may be more handy than wooden ones because they can be cleaned in the dishwasher; however, they may have certain drawbacks. Wooden cutting boards are more long-lasting and appealing, keep blades sharper for longer, and are less likely to retain germs than other boards.
Jars and other containers made of glass
Plastic has a peculiar property of retaining germs and other unpleasant odors, which is reason enough to banish these items from the kitchen. Consider switching to glass storage containers the next time your plastic storage bins have taken on an odd odor. You may also use glass mason jars to keep food in the refrigerator or freezer, such as cheeses, vegetables, fruits, and leftovers from meals.
Supplies for Natural Housekeeping
Tools like maize brooms and wooden-handled brushes are examples of natural cleaning materials. Natural cleaning products include packaged-free bar soaps and handmade, infused countertop cleansers. Suppose you have never dabbled in the natural cleaning world. In that case, an excellent place to begin is with something straightforward, such as this citrus-based homemade all-purpose cleaner.
Wraps made of Beeswax.
Suppose fresh goods are wrapped in plastic for an extended period. In that case, they will either get heated, develop mold, or wilt into an unsightly condition, requiring prompt disposal upon examination. On the other hand, beeswax wraps provide a barrier that is permeable to air and functions like the skin on apples or other fruits. This barrier does a better job of maintaining the freshness of your food for a more extended period, making it an excellent environmentally friendly alternative to those pricey rolls of wasteful plastic wrap in the kitchen.
Shopping Bags Made of Cloth
Your neighborhood grocery shop may listen to your request to continue selling plastic bags at the register. However, you may begin to bring your cloth shopping bags that can be reused with you to the grocery store and any other place that requires you to do shopping. If you hide a couple in the glove compartment of your vehicle, you can be sure that you will always have some on hand the next time you go out and about.
Disclaimer: The information provided in this article is for general information purposes only. All information in this article is sourced from other websites, and we do not represent any rights regarding the contents and information on the site. All rights belong to their original owner.
Sources: