Cooking Hacks for Effortless Organic Dinners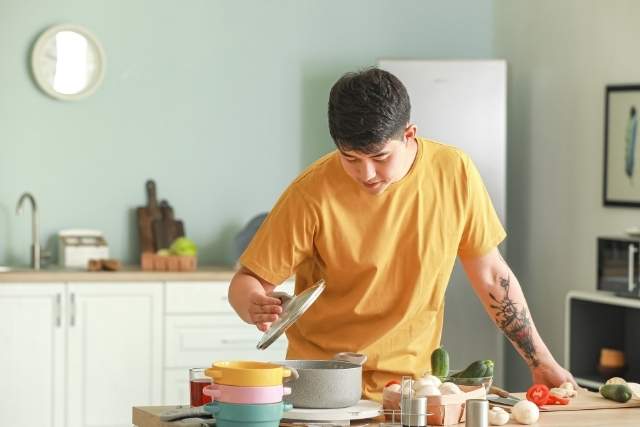 Do you know those popular do-it-yourself hacks you may find online? It would be fun to experiment with them, wouldn't it? You are in luck since there are many innovative culinary techniques that you may test out, many of which are also potentially sustainable for the future.
A kitchen hack, sometimes known as a food hack, is a method that amateur cooks and professional chefs employ to simplify, speed up, or improve the effectiveness of the many processes involved in food preparation. Although the idea of a kitchen hack predates the creation of the word "life hack" and the term "food hack," these terms may be used interchangeably to refer to the same thing. A number of popular kitchen hacks have been put on social media, and some have been shown to either not work, not be worth the effort, or be unsafe.
Put Your Wilted Greens in the Freezer.
Is the kale, spinach, or arugula about to go wrong? Don't be concerned! Simply place it in a bag with a zip-top and then put it in the freezer. Remove your greens from the refrigerator when you are ready to cook a stir fry or a vegetable sauté. 
Create ice cubes with the herbs.
You only need a cube tray, some fresh herbs, and some olive oil to create herb ice cubes. Then, if you have a recipe that calls for a jolt of spice, all you have to do is throw in a cube that contains herbs, and you're good to go.
Squash should be scooped using an ice cream scoop.
Pumpkin seeds are notorious for being sticky and messy, as we know. If you use an ice cream scoop rather than a conventional spoon, extracting the seeds from the squash will be much simpler.
To remove the pit from avocados and stone fruits, twist the fruit.
Twist the halves of your stone fruits or avocados in the other way after cutting them in half lengthwise. Next, remove the pit by cutting it out with your thumb or a butter knife.
Restore the Crunch to Your Fruits and Vegetables with Cold Water
Celery that has wilted? It's not an issue. Simply cut off the top and bottom of the stalks, and then stand them up straight in a jar of cold water. They will take a little time to become crisp again. The same procedure may also be performed with broccoli, lettuce, and asparagus.
Roasted Vegetables Served on a Sheet Pan
When it comes to the latter hours of the day, it is simple to go for grain or protein, and as a result, we often need to consume fresh veggies. Grab a sheet pan and roast various vegetables for you and your family to eat throughout the week rather than cooking a traditional meal. Season with salt and pepper or throw with a family favorite, like a delectable marinade, savory sauce, or vinaigrette for added flavor. Alternatively, season with salt and pepper. Your tongue and taste senses will be grateful to you.
Eggs may be cooked in the microwave.
Are you tired of starting your day with a lousy breakfast consisting of tasteless yogurt or a granola bar with considerably more sugar than you need anyway? Get to know your new best buddy in the morning: the microwave. Find out how to prepare a breakfast fit for a champion with only a few easy steps and the assistance of a microwaveable plate or bowl as the only piece of specialized cookware required. When it would take you to order that pricey cup of oatmeal, you could have scrambled eggs or even fried eggs on the table in front of you in less than five minutes. Your workday is about to take a significant turn for the better.
Disclaimer: The information provided in this article is for general information purposes only. All information in this article is sourced from other websites, and we do not represent any rights regarding the contents and information on the site. All rights belong to their original owner.
Sources: