Foods Rich in Antioxidants for the Skin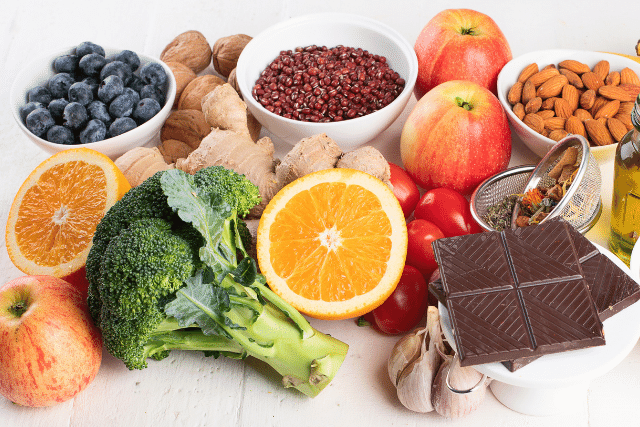 When we talk about antioxidants, it is a chemical that helps to protect the skin's surface against oxidative damage produced by radicals and other environmental aggressors, such as ultraviolet light and pollution. Those free radicals are neutralized by antioxidants, which protect your skin from harm. What a pleasure! However, antioxidants may also brighten your skin, ease inflammation, and even smooth fine lines—as long as you pick the correct ones.
Given their potent anti-aging properties, antioxidants are often used in skin care product compositions. But to be absorbed by the body, antioxidants can also be found in foods.
Foods that are rich in antioxidant has a different benefit, such as the following:
Fights signs of aging
Antioxidants help reduce the appearance of fine, wrinkles, and sagging skin.
Reduces acne
As oxidative stress is the primary cause of acne, antioxidants may help alleviate it.
Makes skin glow
A high-antioxidant diet may also help minimize sun-related skin blemishes and discoloration.
Prevents sunburn
Inflammation and sunburn are checked by enhancing the skin's natural defenses.
The use of antioxidants for stroke and neurological illnesses like Alzheimer's and Parkinson's is well accepted in the medical community. They've also helped treat brain injuries and may be able to prevent or at least halt the progression of cancer.
There are a variety of foods in the market that showcase antioxidant minerals but to get the best of the best, here are seven (7) foods rich in Antioxidants that can make the skin healthy and firm.
Tomato
Tomatoes, which contain a pigment called lycopene, are one of the finest food for the skin for antioxidants. Adding tomatoes to beauty products and Homemade skin care recipes has a good purpose. Four carotenoids in tomatoes help regenerate skin cells and protect the skin from the sun's harmful rays. Tomatoes also include the antioxidant vitamins C and E, which are critical for glowing skin and a youthful appearance.
Blueberry
In addition to their exquisite flavor, blueberries provide a slew of health advantages, making them a true gift from nature. Blueberries frequently referred to as "superfoods," have the greatest concentration of antioxidants of any food. By including this high-antioxidant food into your diet, you may slow the onset of wrinkles, level out skin tone, and lessen the appearance of dark circles under your eyes.
Spinach
Spinach is more than simply a tasty side dish; it also has several health benefits. Is it any surprise that spinach is a good source of antioxidants? We've all seen Popeye's strength increase after downing a can. Regular eating of spinach and other greens has been demonstrated in studies to reduce stress in the mind and body, hence reducing stress-related skin issues. You may eat it in your salads or smoothies, but don't skip out on this superfood if you want to achieve a more youthful appearance.
Garlic
Antioxidants such as vitamin C and selenium are found in garlic, which may be added to salads, pasta, and anything else. In addition to protecting the skin from external aggressors, it speeds up the body's normal mending process. On the other hand, garlic's antibacterial characteristics help to keep acne away, as well as the related inflammation. Garlic eaters have been shown to have fewer skin issues.
Green Tea
Experts agree that green tea is the best source of antioxidants. In addition to aiding in weight loss, Green tea is an excellent component for the skin. Cosmetic companies are increasingly using this component in their products because of its relaxing and calming effects. As a result of the catechin polyphenols in green tea, collagen breakdown is prevented, and the skin's protective barrier is strengthened. Keep the tea bags in the fridge and use them to rest your eyes after having a cup of tea. Green tea bags placed on the eyes while still cold may help minimize puffiness and dark circles.
Watermelon
One of the best ways to cool yourself in the heat of the summer is with a big bowl of watermelon. Hydrated watermelon has a powerful antioxidant called lycopene, which protects cells from free radical damage and helps the body produce more collagen. It also serves to protect the skin from the harmful effects of the sun, including sunburn and skin cancer. You may get a youthful glow and eliminate sunspots by consuming watermelon, rich in vitamins A, C, B, and potassium.
Dark Chocolate
Vitamins C and E, which are found in dark chocolate, help enhance skin suppleness and reduce the appearance of wrinkles. Flavonols in this plant help lessen the redness and irritation of acne-prone and dry skin. This antioxidant-rich diet protects the skin from free radical damage and soothes dry, rough skin, allowing it to retain water. Now that you know how to have younger-looking skin by eating dark chocolate go ahead and load up!
Sources:
https://www.marieclaire.com/beauty/a22370309/antioxidants-skin-benefits/
https://www.stjohns.health/documents/content/top-20-foods-high-in-antioxidants.pdf
https://www.bebeautiful.in/all-things-skin/everyday/antioxidant-rich-foods-for-skin
.